Upgrade coming soon~! :D

Tsuru Kobayashi
Eye Color: Blue
Birthday: September 26 (Libra)
Blood Type: A
Personality Type: ISTJ
Fav Color: Purple
Siblings: 0
Shy and feminine, moved to the big city from her grandfather's mountain shrine when her mother became ill.
She's quickly befriended by Maiko. Tsuru Character Sheet

Maiko Motoko
Eye Color: Light Brown
Blood Type: O
Personality Type: ENFP
Birthday: April 3 (Aries)
Fav Color: Blue
Siblings: 8 year old sister Kiku
Spoiled by her parents, she's a perverted otaku from a rich family.
She attends Yoki's family's martial arts school. Many boys like her, but are too intimidated to ask her out. Maiko Character Sheet

Ryoko Aso
Eye Color: Dark Brown
Blood Type: AB
Personality Type: INTJ
Birthday: October 29 (Scorpio)
Fav Color: Green
Siblings: 12 year old sister, 6 year old brother, 3 month old half sister
Sarcastic tough girl.
She's a genius who's graduated at age 10.
Her mother left the family taking her little sister with her. Her father remarried when she was 12, but she's cut herself off from the family.
For some reason, she's always mean to Rei.
Ryoko Character Sheet


Yakitori (Yoki) Masayo
Eye Color: Light Green
Blood Type: B
Personality Type: ESFJ
Birthday: Febuary 11 (Aquarious)
Fav Color: Red
Siblings: 18 year old brother Kenichi
Named after her father's favorite food, she's a very emotional girl and obsesses over her childhood friend/idol Ryoko.
Her father died when she was 6, but she hardly remembers him, and even if she did she probably wouldn't be affected because of her short attention span and energetic ways.
She loves anything American, cheese, and she's afraid of adults.
Her family runs a martial arts school. Yoki Character Shhet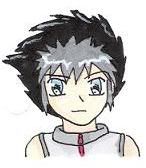 Wataru Yokayama
Eye Color:Blue
Blood Type: A
Birthday: Taurus
Fav Color: Dusty Green
Siblings: 0
Half Korean, he's from one of the wealthiest families in Japan. His father is very picky about who his future wife will be, but a girl named Hana (Kirahana), is currently betrothed to him.
He's a childhood friend of Ryoko, Yoki, and Maiko.
He wants to be the best pro skateboarder in the country so people will realize that he's not just another preppy rich kid. He also loves to fight and is almost a black-belt in Tae Kwon Do. He wants to travel to Korea to continue his studies so he's into anything Korean.

Takashi Takagi
Eye Color:Hazel
Blood Type: AB
Birthday: August 22 (Leo/Virgo)
Fav Color: Yellow
Siblings: 10 year old brother, 8 year old sister Takako
He appears to be the best student, but he's actually just very good at cheating.
He fell in love with Tsuru at first sight.
He doesn't look like it, but he's an excellent fighter and used to be in Jishin's gang. He only dropped out of the gang so he could become a successful, and possibly crooked, businessman.

Kenichi Masayo
Eye Color:Dark Green
Blood Type: B
Personality Type: ENFJ
Birthday: Pisces
Fav Color: Red-Orange
Siblings: 15 year old sister Yoki
Yoki's older brother and probably Ryoko's best friend.
His father was killed when he was 10. Before his father's death he was more emotional then Yoki, but afterwards, he grew a quiet personality. Only Ryoko sees his true self.
He met Ryoko when she was 6 when he came to pick up Yoki from Ryoko's mother's daycare, and has been in love with her ever since.


Rei Heiwa
Eye Color: Purple
Blood Type: O
Birthday: Gemini
Fav Color: Dark Blue
Siblings: 0
Kenichi's childhood friend. He's very spunky and optimistic despite his family life.
His mother was murdered around the time Kenichi's father was killed. His father became an abusive alcoholic, and the only person Rei really trusts is Kenichi.
He likes dressing in cool outfits and makes Kenichi do the same.


Jishin Yuki
Eye Color: Brown
Blood Type: AB
Birthday: Pisces
Fav Color: Light Blue
Siblings: Unknown
He's half Chinese and has been in love with Yoki for as long as he can remember and has been her stalker just as long.
He's dropped out of 11th grade to be in a band.
His family has a shady history and has been accused of yakuza (mafia) actions.
Hana (Kirahana) Yoshida
Eye Color: Purple
Blood Type: AB
Birthday: December 23 (Capricorn)
Fav Color: Pink
Siblings: Unknown
Coming from a nouveau riche family, she's been pressured to become the perfect wife for Wataru.
As a result, her peers think she's a snob and she has no friends except for Wataru.